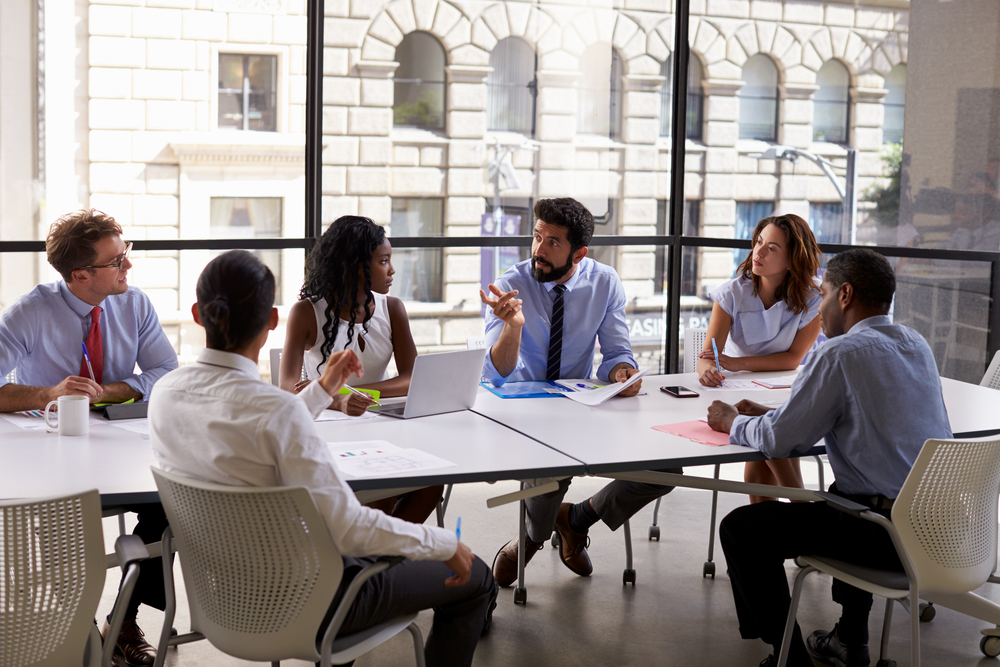 Courtesy of Supply Chain Digital
How Successful Companies Evolve Procurement Functions
Successful companies make their supply chain groups strategic assets rather than just functional groups. But what does it mean? For some organizations, procurement groups evaluate proposals and deliver best-in-class contracts. For others, they are a trusted advisor with stakeholders, building bridges with suppliers and making decisions to improve the quality and efficiency of both. For others, procurement is there to deliver purchasing for operations based on the instructions and directions of operational groups.
World-Class Companies
The most successful companies have best-in-class supply chain groups sharing certain common characteristics:
World-class supply chain organizations consistently get better results with 29% fewer FTEs per dollar of spend, while these FTEs receive 15% more wage than in the other organizations.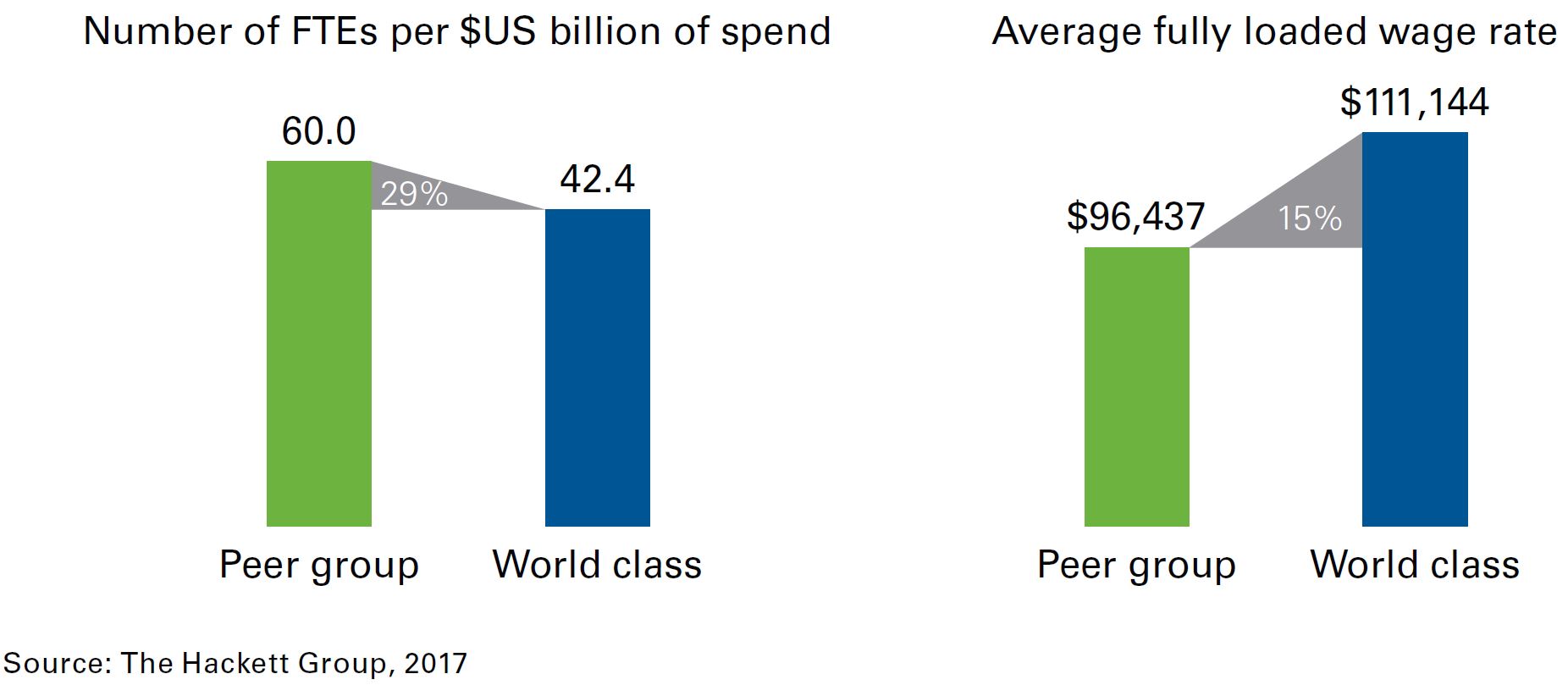 Investments in automaton help make these organizations more efficient, allowing them to redirect focus from operational processes to higher-value activities of sourcing and strategy development. World-class organizations use automation tools to free up their talent to focus on activities that require analytical skills.
The 2017 Key Issues Study conducted by The Hackett Group identified that 100% of respondents believe that attraction and retention of high-caliber talent will be more difficult in the future.
World-class successful organizations automate operational processes and rely on a smaller group of talented professionals. They invest in procure-to-pay (P2P) automation, introduce artificial intelligence (AI) in P2P, make source to contract more predictive, and ensure proactive supplier management. Their supply chain professionals deliver higher skilled analytical work that return the highest value, become professional advisors to the business, focus on Total Cost of Ownership (TCO) and not just price, and introduce leading KPI's to focus on preventing problems before they happen. These groups deliver best-in-class contracts detailed enough to anticipate and deal with specific risk items.
What is Automation?
P2P automation encompasses the following:
Automate material demand sensing and delivery of requisitions
Eliminate repetitive processes
Trigger payments in real time
Exchange goods through decentralized ledgers
In addition, the introduction of AI is seen by many professionals as the next step in P2P automation. AI helps with the automation of some processes, providing better visibility into spend, ensuring contract compliance, and preventing duplicate invoicing. All these improve user experience, save time and reduce overall P2P cost.
How can one make source to contract - or category management - more predictable? This is accomplished by managing spend in real time, predicting demand with AI, knowing your cost breakdown and TCO, and predicting sources of future supply through a deeper understanding of the market.
Supply Chain Organizations Increase Value
In a world of increasing regulatory oversight and sanctions, the spotlight is on conducting business legally, safely, and with environmental stewardship. The best supply chain organizations manage their suppliers proactively by:
Monitoring risk in real time: due diligence on ABC, AML, HSE, etc.
Performing supplier audits through crowdsourcing
Conducting supplier visits via augmented reality
Monitoring sustainability via automated reporting and visualization.
The Deloitte Chief Procurement Officers Survey (2018) suggests that successful companies can improve their supply chain organizations by helping them become more intelligent:
Social media platforms are leveraged to connect employees and suppliers. Sourcing is viewed not as a standalone activity but rather one that requires building relationships with key suppliers, exploring new competitive markets, and being aware of the latest innovations. This requires supply chain organizations to be closely connected with their current and potential suppliers as well as the broader market.
Procurement platforms, ecosystems, and networks are created. These networks become more than a highly specialized tool, providing broad solutions to supply chain organizations at all steps in their processes.
Supplier and workforce requirements are analyzed to ensure your workforce is optimally utilized. Automate all you can and let your professionals focus on the highest value activities - fewer but more highly qualified workers.
Future Trends and Risks
The abovementioned source, the Deloitte Chief Procurement Officers Survey conducted in 2018, suggests that the majority of CPOs feel the following technologies will have the biggest impact on procurement effectiveness in the next few years:
Analytics 59%
Strategic procurement tools 37%
Operational procurement tools (e-procurement) 37%
ERPs 35%
In 2019, Ardent Partners conducted a survey among more than 300 procurement leaders and practitioners to identify primary game changers for procurement. The results are a reassuring story for procurement groups: better data visibility and analytical capabilities (37%), new or improved technologies (33%), a more talented staff (30%), and earlier engagement on sourcing opportunities (28%) both internally with stakeholders and externally via networking with potential suppliers to proactively understand their capabilities.
The Ardent Partners' 2019 survey also indicated that in addition to budget constraints and missing or incomplete technology, talent constraints is one of the top hurdles to achieving procurement's 2-3 year objectives. Improvements in automation will help mitigate this shortage of talent.
Skills of the Future Professional
People are the most important asset of successful supply chain organizations. Constant learning and upgrading of skills are required. In the future, expect the most valuable skills for procurement professionals to be:
Ability to transform organizations
Relationship management and networking skills
Proactive management of supply chain risks
Commercial and strategic mindsets
Tech savviness and adaptability to quickly evolving markets.